베니스 비엔날레 이탈리아관 입구에 전시된 그의 작품들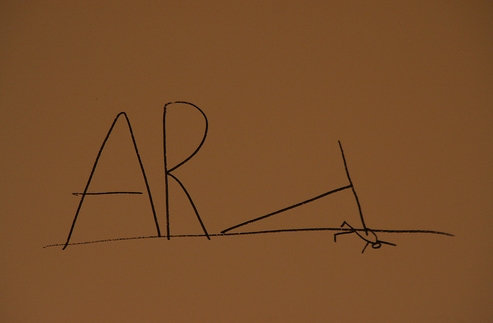 점점 난해하고, 복잡해지는 현대미술을 풍자한 것은 아닐까?
이제는 예술이 인간을 표현하는 시대가 아닌 인간이 예술을 분석해야 하는 시대가 된 것 같다.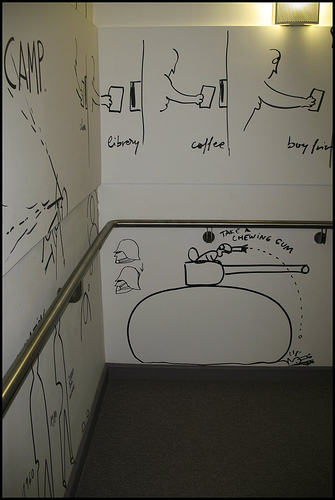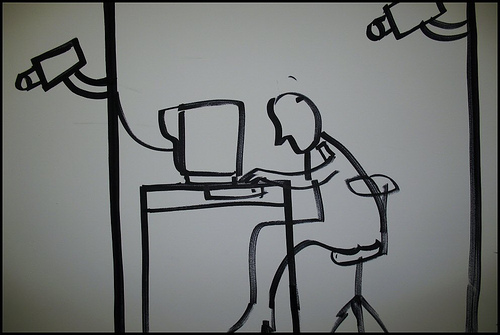 끊임없이 감시당하는 현대인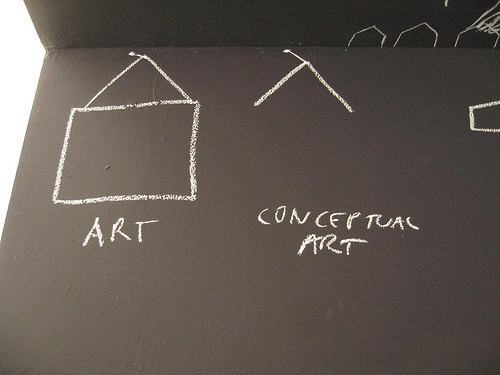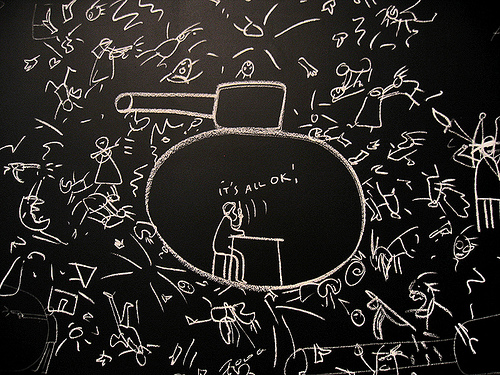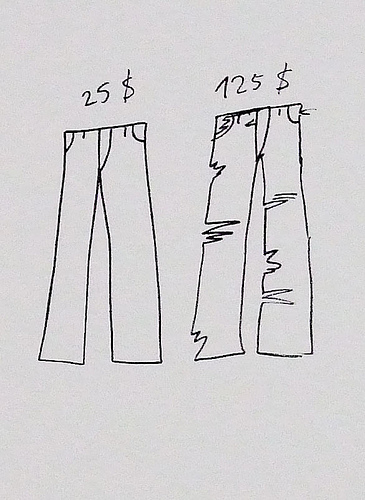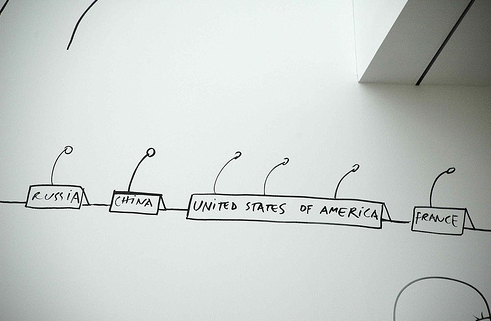 미국 중심의 국제사회의 모습을 풍자한 것 같다.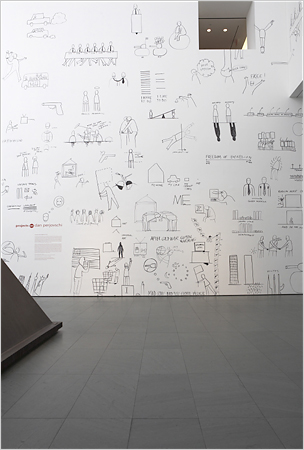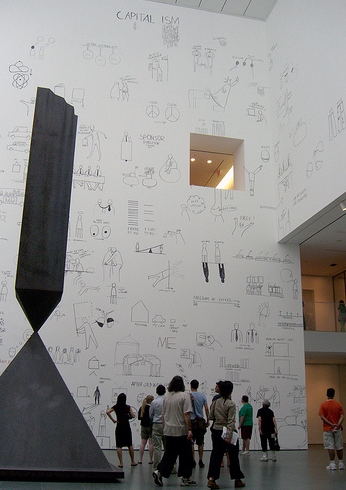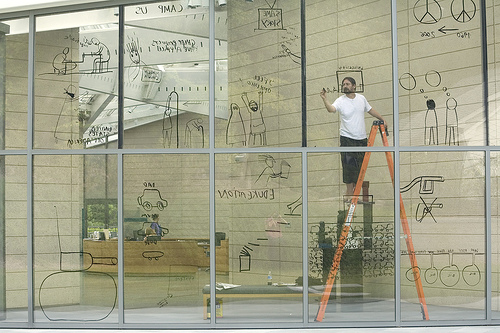 작품을 그리고 있는 Dan Perjovschi
Dan Perjovschi : The Room Drawing
Sunday, 5 March 2006 | Elif Sungur
Treating the walls of Tate Modern's Members' Room as a blank canvas, Dan Perjovschi creates a witty, provocative and occasionally cutting social commentary, using drawing to deal with socially relevant issues. His work follows the tradition of political cartoonists' drawings which link humorous observations of everyday life with ironic commentary.
In 1999 Perjovschi represented Romania at the 48th Venice Biennale. He covered the floor of the pavilion with drawings and political graffiti about life in the post-Communist era and the role of Eastern European art in the cultural exchange with the West. Sketched using black marker pens, Perjovschi's cartoons literally vanished beneath the feet of visitors – a clear allusion to the erosion of Eastern European identity and 'old' art following the collapse of the Wall.
In the summer of 2004, Collective Gallery invited Perjovschi to be the unofficial artist-in-residence to the Edinburgh Festival. Perjovschi acted as a critical observer and sometime participant, mingling with writers, performers and audiences, picking up on the cultural debates and setting them within a broader global context. His playful chalk drawings were seen on regularly updated display panels at three locations within the city and in a freely distributed newspaper.
Perjovschi's drawings always respond to the social and political context in which they are made and incorporate comments on personal, regional and international issues. His research for The Room Drawing included interviewing Tate staff members, Tate Members and representatives from Tate Modern's Council. The results are likely to raise a few eyebrows.
Perjovschi was born in Sibiu, Romania in 1961. He lives and works in Bucharest.
The exhibition will take place between 25 March and 23 June 2006.




2011/10/22 - [그림이야기] - Dan Perjovschi - 단 페르조브스키 (1/2)